Bali is one of Indonesia's leading tourist destinations which is often a vacation choice. When you go to Bali, it's certainly not legal if you don't visit Ubud, which is famous as the center of Balinese art. To make your vacation even more enjoyable, you can look for the best villa in Ubud.
Staying in a villa can be the best solution, especially if you are on vacation with your family.
The reason is, one villa can usually be occupied by several people at once. However, the cost of staying at a villa is generally relatively expensive, so many people feel reluctant to book a villa.
10 Best Villa in Ubud, Luxury and Affrodable
Want to spend time in Ubud Bali by relaxing in a villa, but on a tight budget? You don't need to be insecure, because these 10 affordable villas can be an alternative solution:
1. Santi Mandala Villa & Spa
In addition to offering affordable prices, Santi Mandala Villa & Spa also offers a variety of complete facilities that guests can enjoy, from a swimming pool, ample parking, air conditioning, WiFi, lounge, library, restaurant, laundry, spa, to child care facilities.
This villa is located in Bucuan, Batuan Village, Sukawati, Gianyar Regency – Bali. This villa offers rooms with a tropical mountain-style atmosphere that can be enjoyed from inside the room. The location is also quite strategic because it is close to tourist attractions and public facilities.
To stay at Santi Mandala Villa & Spa, you only need to spend from IDR. 279,000 / night, and can already feel the experience of spending the night in a 48 m2 villa with views of the beautiful green gardens and pampering the eyes.
Also Read: 10 Best Fine Dining Restaurant in Ubud
2. Ancut Sari Villa
The location is on Jl. RSI Markandya II, No. 34, Keliki, Tegallalang, Gianyar, and surrounded by beautiful rice fields so it is suitable as a place for refreshing and vacations.
During your stay, you can enjoy various facilities provided by Ancut Sari Villa, such as parking lots, an outdoor swimming pool, AC kitchen, gazebo, and so on.
The rates offered can be said to be very affordable, starting from Rp. 297,000 /night for the type of Villa 1 Suite Pool View area of 49 m2. The price includes breakfast for 2 pax. How, the price is very friendly, right?
3. Kuda Angin Villa with Private Pool
Kuda Angin Villa is in a strategic location and easy to reach, namely Jl. Raya Penestanan Kelod Sayan Ubud. This 1 bedroom villa can be an alternative spacious and inexpensive lodging solution for those of you who are not so familiar with the Gianyar area, especially Ubud.
Although the rate offered is quite cheap, the facilities are quite complex, such as indoor and outdoor swimming pools, garden, fully equipped kitchen, parking, laundry, free tea and coffee, and so on. So, you will be really pampered while staying here.
If you are interested in staying in a villa that carries the One Bedroom concept, you only need to prepare funds of around IDR. 330,000/night for a villa of 25 m2.
4. Pondok Saraswati Villas Ubud
Are you looking for a cheap villa in Ubud that carries a classic feel? Pondok Saraswati Villas Ubud which is located on Jl. A.A Gede Rai, No. 70, Lodtunduh, Ubud this could be the best choice. Moreover, this family villa also offers friendly rates.
Guests of Pondok Saraswati Villas Ubud can use the various facilities available, including a swimming pool, gazebo, sundeck, and library for free. In this villa there is also a bicycle rental service, especially if you want to explore the area around the villa.
The cost to stay at this villa is not large, which is around Rp. 355,000/night. For villa type, 1 family room with an area of 42 m2 with 1 double bed and 1 sofa bed, and 2 pax breakfast.
5. Villa JJ & Spa Ubud
For those of you who crave refreshing in a villa with complete facilities, but are constrained by budget, then Villa JJ & Spa Ubud can be an alternative choice. It is located on Jl. Raya Petulu Ubud and only about a 10-minute drive from the Tegallalang tourist attraction.
To support guest comfort, Villa JJ offers a variety of superior facilities, such as air conditioning, laundry, and a swimming pool. The price offered is also affordable, which is only Rp. 365.000 / night for Bungalow type 1 Bedroom with Rice Field View (21 m2).
6. Abhirama Villas & Spa by Supala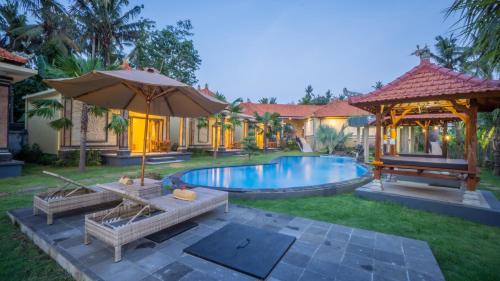 Only with a budget of IDR 433,000, you can already stay at this modern minimalist concept villa by Supala. The price is the rate per night for Villa 1 Suite type with a balcony of 32 m2, including 1 pax breakfast, welcome drink, and coffee & tea.
Abhirama Villas & Spa is located at Jl. Raya Lodtunduh, Banjar Tengah, Ubud, Gianyar – Bali and easily accessible by vehicle. Although the price is very affordable, you can enjoy a variety of facilities, such as swimming pools, lounges, restaurants, and more.
7. Pondok Sebatu Villa
Another best villa in Ubud that should not be missed is Pondok Sebatu Villa. The location is in Banjar Sebatu, Sebatu Village, Tegallalang, Ubud, and right in the middle of the countryside with a panoramic view of rice fields that is guaranteed to make the heart feel at peace.
To spend the night in a villa that carries this classic traditional concept, you only have to prepare a budget from Rp. 420,000 /night. Meanwhile, the facilities that can be enjoyed include parking, a swimming pool, air conditioning, a restaurant, a bar/lounge, and others.
8. Suara Air Luxury Villas Ubud
Suara Air Luxury Villas Ubud has located 5 km from the heart of Ubud, this luxury villa surrounded by green forest offers its own exoticism so it is guaranteed to make you feel at home staying here. The location is on Jl. Raya Pejeng Kawan, Pejeng Kaja, Tampak Siring, Gianyar – Bali.
Besides being able to enjoy the stunning beauty of the scenery around the villa, you can also enjoy facilities, including a private swimming pool, hiking, spa, to cycling. For villa type 1 Suite measuring 70 m2, the rate is only IDR. 450.000 /night.
9. Uma Kakul Villa
Do you need a peaceful atmosphere to calm down? Uma Kakul Villa can be used as a reference. This villa that stands majestically in the middle of a stretch of rice fields also provides outdoor private pool facilities. So, you are free to swim without any disturbance.
Uma Kakul Villa is located in Sebatu, Tegallalang, and is quite close to various tourist attractions. The price is very affordable, which is IDR. 573,000 /night for 1 Bedroom Villa size 100 m2 with private pool. The price includes 2 pax breakfast.
10. Tanamas Villas Ubud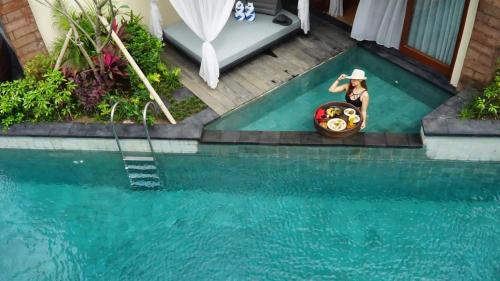 If you are looking for a luxury villa at an affordable price, Tanamas Villas Ubud which is located on Jl. Cempaka, Banjar Kumbuh, Mas Village, Ubud must be included in the bucket list. This luxury villa with stunning natural views offers an affordable price.
For the 1 Bedroom Villa type with an area of 70 m2, you only need to spend IDR 720,000 / night. This villa has also been equipped with various facilities, such as a public swimming pool & private pool, sundeck, restaurant, living room, and so on.
If you are on vacation on the Island of the Gods, Bali, and happen to want to spend time exploring Ubud. Several choices of cheap and best villas in Ubud above can be taken into consideration.